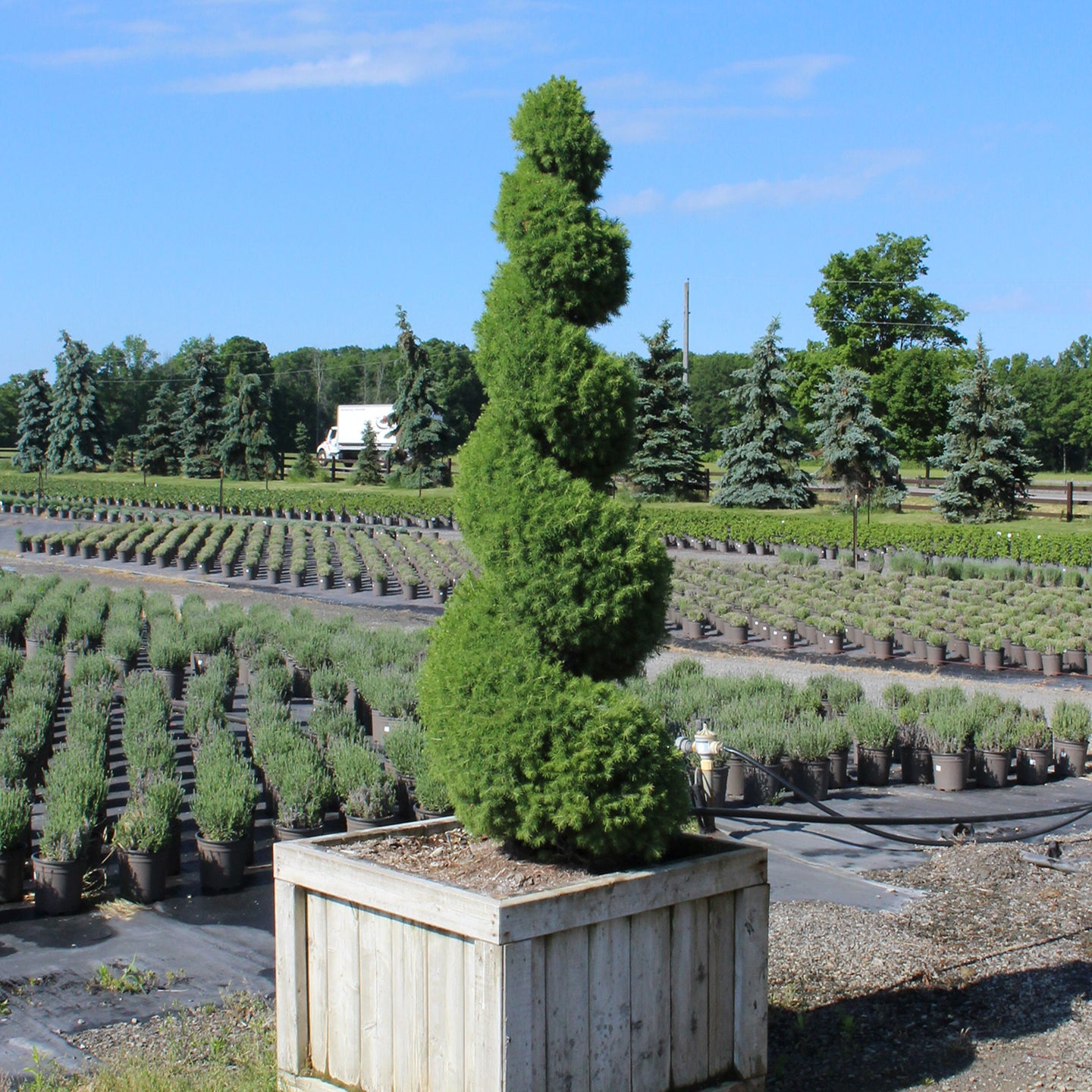 Comes Back Every Year
Drought Tolerant
Easy Care
Full Sun
Installation Available
Medallion perennials
Description
Dwarf Alberta Spruce is a beautiful and evergreen plant that is perfect for small gardens, patios, and rock gardens. This slow-growing tree has a compact form and dense branches covered with green needles that give it a bushy appearance. It's a great plant for adding structure and texture to your garden, and it works well as a specimen plant or in a group planting. The Dwarf Alberta Spruce is a hardy plant that is easy to care for, making it an excellent choice for beginner gardeners or those with little time for maintenance. Its unique shape and low maintenance requirements make it a popular choice for many gardeners looking for a beautiful and easy-to-grow plant.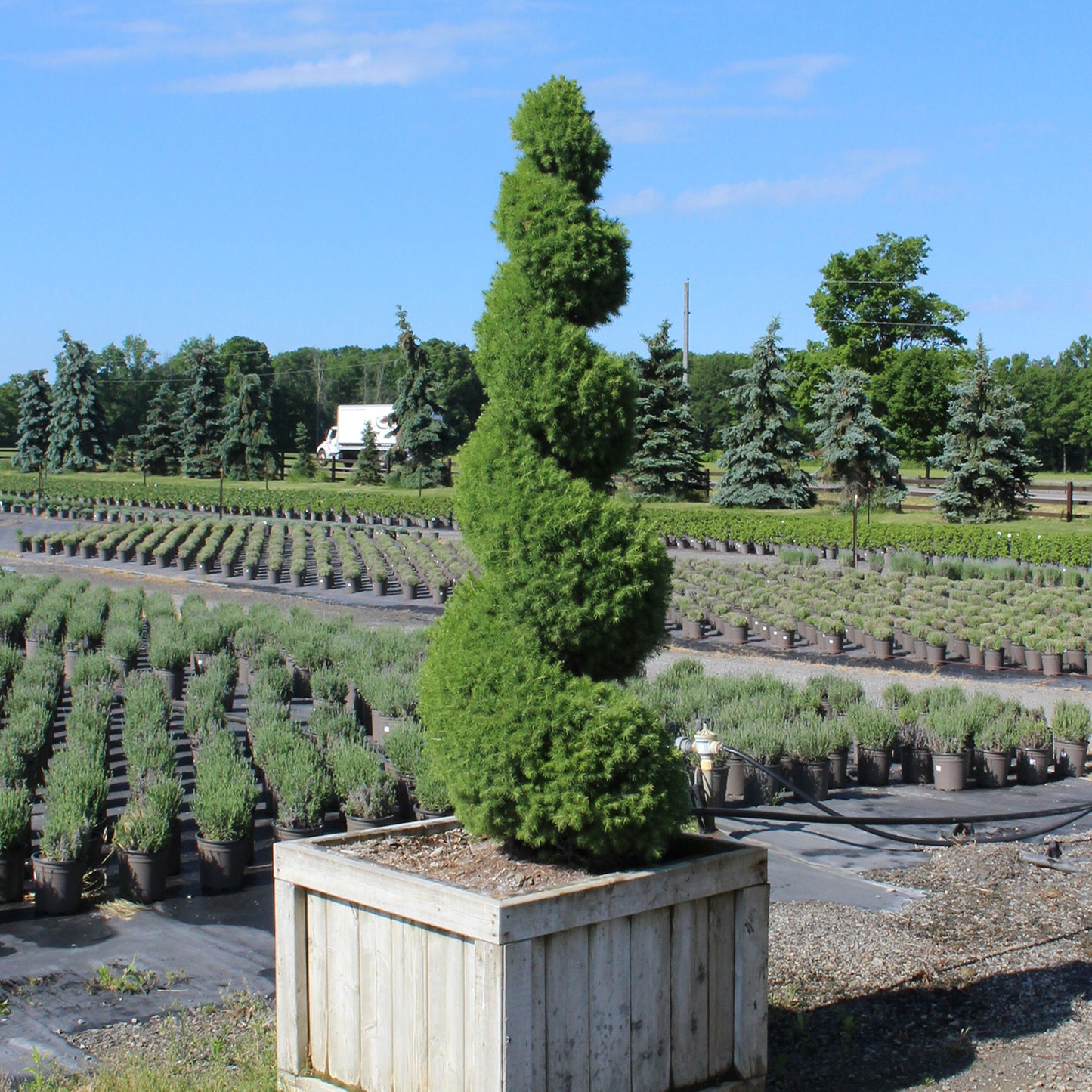 Dwarf Alberta Spruce
Trusted by Thousands
of Happy Customers

Fast & Free Shipping
on all Orders

14 Day
Hassle-Free Returns

Happy Plants, Happy Garden.
Guaranteed
Plant Information
Details
Latin Name
Picea glauca 'Conica' - spiral
Common Name
Dwarf Alberta Spruce
Pruning
Late Winter/Early Spring
Water
Approx. 1-2 times per week
Highlights
Compact size: As its name suggests, this evergreen conifer has a dwarf habit, making it a great choice for small gardens or container plantings.
Attractive shape: The Dwarf Alberta Spruce has a pyramidal shape with dense, bright green foliage that retains its colour throughout the year. It adds a beautiful accent to any landscape.
Low maintenance: This tree is easy to care for, requiring little to no pruning or shaping. It is also fairly pest and disease resistant, making it a hassle-free addition to any garden.
Care Guide

Watering: The Dwarf Alberta Spruce prefers consistently moist soil, but it's important not to overwater it. Water deeply when the top inch of soil feels dry to the touch, and avoid letting the soil dry out completely.
Maintenance: The Dwarf Alberta Spruce is a slow-growing plant, and generally doesn't require much maintenance. Monitor the plant for pests and diseases, and treat as necessary.
Pruning: Late fall or winter is the best time to prune the Dwarf Alberta Spruce. Lightly prune back the new growth to maintain the tree's shape and size. Avoid pruning more than 1/3 of the tree's total foliage in a single year, as this can stress the plant.
(Optional):Fertilizer: The Dwarf Alberta Spruce doesn't require a lot of fertilizer, but a slow-release, balanced fertilizer can be applied in early spring. Follow the manufacturer's instructions for application rates. Avoid fertilizing the plant later in the growing season, as this can stimulate new growth that may not have time to harden off before winter.
Planting Instructions

Planting a trees or plants is easy! First, begin by digging a hole that's twice as wide as the root ball and just as deep. Place the tree or plant in the hole and add some bonemeal fertilizer. Backfill with fresh soil if needed and water thoroughly. Water regularly until roots are established to keep the plant healthy. Enjoy your new tree or plant!
Delivery Information

Great news! We offer FREE delivery on ALL orders with no minimum order value! 🎉🚛
If you've pre-ordered plants or trees, don't worry! We'll send it as soon as all the items are ready to ship. If you prefer to have items arrive seprately when they are ready to be delivered, just give our team a shout and we'll send it as soon as they become available. 📦💨
We only sell pre-order products when they're at their absolute best, so you can be sure your new plants will arrive in perfect condition! 🌿👌
If you're in Ontario, your order will be at your doorstep in just 2-4 business days! If you're in Quebec, expect your order in 3-5 business days. For the rest of Canada, it'll take just a bit longer, with delivery times ranging from 4-8 business days. 🚚🌎
Questions? Concerns? Don't hesitate to reach out! Our friendly team is always here to help! 😊💬
Installations

We offer installation services in the GTA and surrounding areas! Let us take care of installing your new product so you can sit back and relax. Contact us today to learn more about our installation options.
"I was blown away by how quickly my plants arrived - just three days from the time I placed my order."
Kim
"So happy to see that the plants were in perfect condition. I'm very impressed with the quality"
Ava
"Excellent customer service - friendly and responsive. Highly recommend!"
Sarah
Happy plants, happy a
aaaaaa plants, happy garden. Guaranteed.
aaagarden. Guaranteed.
Worry-free gardening. Our plants thrive or we'll replace them
Choosing a selection results in a full page refresh.
Opens in a new window.